Glare vision is a visual phenomenon that is caused by an unfavorable brightness distribution or an extreme brightness contrast, which causes an uncomfortable feeling or a weak vision to observe a detail or a target, is collectively referred to the glare vision. If the human's eyes are exposed to the glare vision, it will be irritating and tense. Working under such conditions for a long time will cause boredom, irritability and fatigue, which will have a so bad impact on people's production and life. It can be divided into Uncomfortable and disability according to the degree of influence on vision.
(1) Uncomfortable
The visual only has an uncomfortable feeling, which can cause distracting effects, but it does not necessarily reduce the visibility in the short-term. It is  uncomfortable 
(2) Disability
Since the position of the light source is close to the line of sight, the edge of the retinal image is blurred, which hinders the observation of nearby objects, reduces the visibility, and if it is laterally suppressed, it also makes the visibility worse. It is defined as the disability glare vision.
(1) Direct
The direct glare is made by a light that presents in the direction of the object or in the direction of the line of sight. In the building, the direct glare vision occurs when the light source is too bright, like the strong sunshine.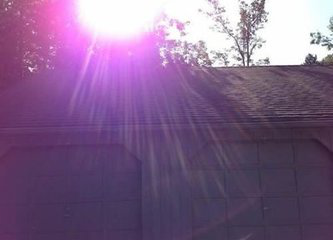 (2) Indirect
There is a high-intensity light source in the field of view, but it is not in the direction of the object. We call it the indirect glare vision.