In my opinion, "Light zoom" is a higher level of technology than "Zoom Light". From "Zoom Light" to "Light zoom" is the inevitable development of the industry. why would you say this?

First, the inevitable technology upgrade. The "Zoom Light" realizes the change of the focal length, that is, the change of the illumination angle of the lamp, thereby achieving the purpose of "one lamp = multiple lamps". The technical basis of the zoom lights on the market is derived from this, as is the main function. "Light zoom" achieves a richer variety of changes, including beam angle changes, brightness changes, color temperature changes, and more. Therefore, "Light zoom" is an optical smart upgrade based on the "zoom light".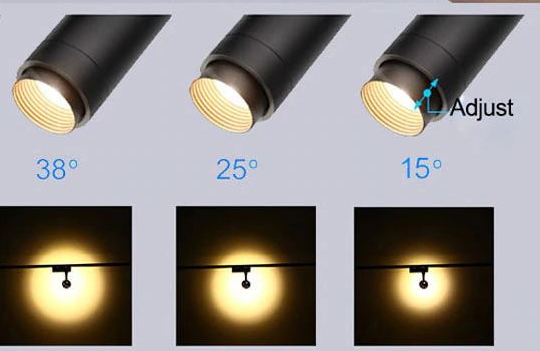 Second, the inevitable market upgrade. The lighting market in the era of LED light sources has been upgraded from the original appearance style to the competition of light source applications. In recent years, major LED chips and packaging manufacturers have successively launched products with better light color and better performance, which provide strong support for the application of lighting products. "Light zoom" is a better use of LED light source products, fully demonstrating the advantages of LED light source products, and is an inevitable trend in the development of LED lighting products.
Third, the inevitable upgrade of the industry. Based on the progress of LED light source, LED lighting industry pays more and more attention to "light application", emphasizing the application of different light on different occasions, and customizing lighting for people. "Light zoom" helps to apply different light to different occasions, helping lighting designers to realize the "light scene" they want in the most convenient way. When the entire LED lighting industry pays more and more attention to the rational use of light, the LED lighting industry is constantly upgrading, and "Light zoom" is one of the best ways to upgrade the LED lighting industry.